There were lines of vehicles backed up and all traffic lights were out in Nelspruit as I drove through the city Monday morning.
About an hour later I arrived in Barberton, a small town near the Swaziland border, where the main road was blocked by burning tires, piles of rocks, cut down trees and piles of trash.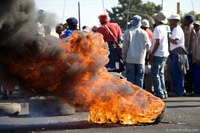 Burning tires in the street

It was Monday, July 27, and that morning over 150,000 South African municipal workers throughout every province in the country went on strike and trashed cities and towns throughout the country.  They were protesting after wage agreement negotiations failed between the South African Local Government Association and South African Municipal Workers' Union.  The municipal workers rejected an offer of an 11.5% wage increase and were demanding a 15% increase.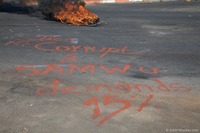 Jaco is Corrupt & SAMWU Demands
15% painted on the street

I camped in a park in Barberton on the edge of town on the main road for the next two nights and each morning woke up to a crowd of municipal workers marching down the street, chanting and dumping bags of trash in the street.  Downtown they were doing more of the same, cutting down more trees to drag in the road and burning tires and garbage cans.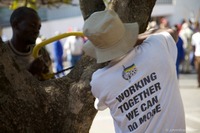 Two protestors work together to cut
down trees to block roads

Armed private security personnel closed roads and redirected traffic as the group moved throughout the town.  The reactions of the non-protesting citizens in the town was quite mixed.  There were plenty of racist and degrading comments, many people were scared of the protesters, some were curious and observed the activities from behind the protection of armed security guards, some shook their head in disgusts, and others sympathized with the municipal workers despite their trashing of the town.

The protests continued for five days until SAMWU agreed to a 13% wage increase on Friday afternoon.  The streets in many areas remained a mess with trash, broken bottles, burnt tires and overturned garbage cans until those on garbage duty returned to work on Monday morning.