When I began my trip in May 2009, I envisioned traveling from Cape Town to Cairo over roughly one year; to do it primarily solo and via public transport.
Ten months later having made it only one quarter of the way to Cairo while traveling around southern Africa via mostly minibus taxis, hitching and a few stints with a rental car, I have found a comfortable pace. Many of the best experience have been in places less-traveled - in the countryside away from the cities - places that are difficult to get to via public transport.
It was great to be back in Cape Town
and meet up with family and friends
Making it from Cape Town to Cairo via public transport and hitching is certainly doable, but I began to think that if I want to continue to spend time zigzagging around off the main path and complete this trip in a timely fashion it would be best done with my own vehicle. That thought was cemented as I spent a week with fellow overlanders
Steve and Roxy in Tofo, Mozambique
. They had come down from London via the western coast of Africa in an impressively large overland truck and raved about the benefits and freedom of doing the trip with their own vehicle.
I returned to South Africa to look for a vehicle and after a few weeks of searching I settled on a 1994 Land Rover Defender 110. It came with some overland gear and 308,000km on the odometer. After a few thousand kilometers of driving, a hole in the radiator and a cracked head cylinder it needed some work. I slowly made my way back to Cape Town to get a stock of spare parts and a new head cylinder put on the engine.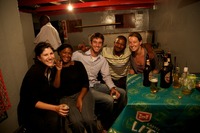 Spending time with the locals in a
shebeen outside of Port Elizabeth
With the Defender back at 100% I am now making my way north with three friends. My sister Liz took a three-month leave of absence from her job in New York and came over in early February. Friends Jon and Victoria came over in early March. Together the four of us are going to spend the next couple months making our way up the eastern coast and traveling throughout the interior of South Africa.
Our first stop was the winelands of Stellenbosch, Franschhoek and Paarl. We experienced some incredible wine and by the time we left Stellenbosch we had accumulated a few additional boxes of it. With the extra load, space inside the Defender became a little tight. Jon and I found some large containers to mount to the roof rack and clothes, books and camping gear were moved upstairs.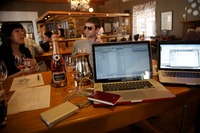 Getting a little work done at our mobile
office at the Simonsig Vineyard

We all pack lightly when it comes to clothes but are a rather tech heavy and wired group. Among the four of us there is a handful of macbooks, HD video cameras, D-SLRs and point-and-shoot cameras, GPS units, 3G modems and over 6TB of external hard drives to store all the photos and video.
With the amount of tech gear we were carrying in the car and security issues in some areas some additional modifications to the Defender seemed to be in order. The rear sliding windows of Defenders are not incredibly secure and are held shut by a small plastic latch.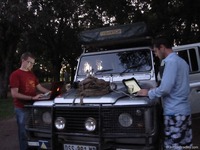 With a dual-battery power inverter and 3G
modems we can connect almost anywhere
Over the past few months I've seen a number of ways people have tried to make Defender rear windows less attractive to uninvited guests including tinting the windows, installing mesh wire security grates or mounting sand ladders over the windows. I spoke to a few shops and was going to have brackets made to lock sand ladders over one side and a rack for jerry cans over the other. The week that I was going to get the work done I came across a Defender with a far more unique solution - remove the rear window and frame entirely and rivet in a diamond plate aluminum cabinet to hold glasses, mixers and a few bottles with a door that folds down to make a mobile cocktail bar. We found the shop that did the work and the following Monday we brought the Defender in at 8am and waited the entire day as they drilled out the rear side windows and installed the custom fabricated aluminum cocktail bar.
With the new in-car bar stocked and a battery powered refrigerator/freezer to make ice for cocktails and a fridge to keep the whites cold the four of us happily began our journey up the east coast.