Months ago while traveling in Mpumalanga I met Jimmy at one of the hostels I was staying at.  A former ranger and guide at some of the more popular game reserves including Kruger National Park, Manyeleti and Sabi Sands, he appeared quite knowledgeable about the bush and the animals within.  He also seemed to have an interesting perspective on animal instincts and human interactions with animals in the wild.  He told stories about his adventures in the bush, including walking up close to rhinos and sitting near a watering hole and being surrounded by buffalo.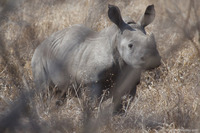 A young rhino calf watches us as we
walk past
A good friend of mine that I'd known since elementary school, Steve, was planning on coming to visit for a couple weeks.   I thought he'd enjoy a few days of camping and close encounters with some of the Big 5 so I asked Jimmy if he would be interested in taking us on a multiple day bushwalk.  After confirming he could get four days off work he agreed to take us on a bushwalk for free as long as we sponsored the transportation, food, and drinks.  I ran that by Steve and we agreed that sounded like an exciting time and it was within our budget.  Four days in the bush, no cell phones, no showers, no one else - just us and the animals.
A few weeks later Steve flew into Johannesburg.  I picked him up at the airport and we drove four hours to Mpumalanga where we met up with Jimmy.  The following morning we packed the car, bought supplies and were ready to head North.  Just as we were about to depart Jimmy ran back inside and came out with an oxygen tank and mask, threw it in the back of the truck and told us that he was recently diagnosed with emphysema and needed the oxygen sometimes.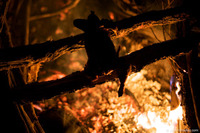 Cooking our chicken dinner over coals
We drove up to the area where we planned to camp and drove about 20km into the bush.  Part of the way on dirt roads and then we turned off and drove straight into the middle of nowhere.  Eventually we punctured the sidewall of one of the tires and decided that's where we would make camp.  The next couple days were full-day 20km bushwalks with up close encounters with a number of large animals including hippos, elephants, giraffes, zebras, rhino, and wildebeests.
The first day of bushwalking we packed our cameras, food, and water, turned on the GPS units and headed out.  Jimmy liked getting very close to the animals.  Steve and I observed a few close encounters a little further back at first but then followed suit, getting an incredible adrenalin rush from being in the wild only a few meters from animals that were 10-50 times our size.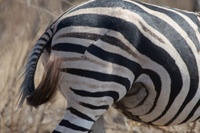 A zeebra had her stripes reset from an
attack on her rear end

Six hours later we were 10km northwest from our camp and had eaten most of our food and drank most of the water we were carrying.  As we started heading back toward camp we ran across some lion footprints in the sand.  As we continued to track them Jimmy started stopping to rest about every 300m, then his rests got progressively longer as the distance we covered in between became shorter.  It was about 5pm and we were still about 5.5km from our camp.  If we walked straight back without stopping we would probably make it to the camp just after dark.  
I took Jimmy's small pack and we pushed on.  Then Jimmy started puking and soon was on the ground cramping up.  He said he wasn't going to be able to make it any further today.   We briefly discussed camping where we were but there was only about two cups of water left between the three of us and we were all quite thirsty.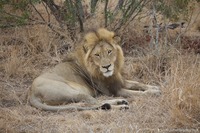 This lazy lion let us drive within
10ft/3m of it
This is the only time in the four days of camping that things were slightly serious.  Jimmy was in rough shape, we all needed water, we were about two hours from our camp and it was going to be dark in an hour and a half.  We decided that Steve would stay with Jimmy and I would walk back to camp, get the truck and come back.  We marked the location on my GPS, split the remaining water and I headed off.  All day we were searching for animals but now it was getting dark and I was walking alone - now I didn't want to see any animals.  I was worried that I wasn't going to be able to see the animals in the dark and might startle one as I walked past it. 
I made it back to the camp just after dark, drank some water and then jumped in the truck and started navigating around the larger trees and across riverbeds making my way back to Steve and Jimmy.  I was about 100m away when Steve appeared with a flashlight.  Steve and Jimmy chugged from the warm 5 liter bottles of water that were in the truck as Steve told me about his time waiting with Jimmy.  After it got dark they could hear the lions roaring.  Steve gathered some wood ready to build a fire as Jimmy laid on the ground moaning and vomiting.  After we all had our fill of water we just laid on the ground and rested for a while.  An hour later Jimmy got up and said that he was feeling much better now.  He cracked open a beer, we jumped in the truck and slowly made our way back to the campsite.  We arrived dead tired and went straight to sleep.